Did You Know?
Recent LABBS polecats are available to purchase for non-members, voiced for both female (upper voices) and male / mixed ensembles in most cases!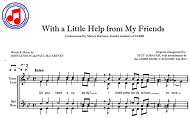 LABBS music on SMP
Find our 3 latest polecats With a Little Help From My Friends *, You Gotta Be and Make Your Own Kind of Music on sheetmusicplus.com
LABBS 2016 Polecat "Bohemian Rhapsody" is also available on sheetmusicplus.com here.

* SSAA Tracks are available to buy for "With a Little Help from My Friends, please email arrangements_filter_unwanted@labbs.org.uk for details.
If you have already visited our barbershop style page, or watched lots of barbershop performances on YouTube, you will already know that there are various features that make an arrangement "barbershop", as opposed to another genre of a cappella (unaccompanied) or choir music.

Finding music written in the barbershop style to sing can be a challenge, as it isn't usually something you can walk into a normal high street music shop and buy off the shelf. If you do, you run the risk of purchasing something that isn't quite what it claims to be...

If you are keen to give this style a go, you can find some pointers on where to find a good barbershop arrangement on our find music page, or use the navigation dropdown under music. If you are a UK music teacher looking for more detailed advice on finding music for younger voices, please get in touch via our contact form.

Additional excellent information about barbershop music can be accessed on the Barbershop Harmony Society's website, with whom we have an alliance agreement.

Are you a LABBS member? Please
login
to access additional information from LABBS on finding music and other resources, as well as access to LABBS Polecats.