Information for Delegates
Guidance information may be subject to further changes. Please check back for updates.
Please find below information in various formats, to refer to online, or download/print as PDFs.
Note that the organisation of Harmony College is paperless, there will be no printouts available to pick up on site, so if you prefer a paper reference of anything, please print and bring your own.
Location and Campus Map
Postcode for satnavs:
NG8 1BB
what3words:
main entrance:
move.heavy.robe
entrance to Southwell car park:
parent.garden.casino
middle of Jubilee Conference Centre car park area:
gosh.study.zones

Guide to buildings for Harmony College:
Southwell Hall - purple - accommodation
Jubilee Conference Centre - #50 - accommodation and evening "quiet bar"
Atrium - #5 - Meals and evening "loud bar"
Business School South - #7 - Welcome, all plenaries (auditorium #8), Education (Directors, Personal Development, Chorus)
Amenities Building - #11 - Education (Quartet stream)
Dearing Building - #6 - Education (EQ stream on Saturday)
Exchange Building - #2 - Education (EQ stream on Sunday, Chorus)
All educational buildings and rooms will be used for pic-n-mix classes.
See floorplans below
for locations of rooms.
Parking
On Saturday and Sunday, free parking is available throughout the campus in all marked bays (except Blue Badge spaces unless you're a holder and "V spots" for pay and display). No permit is required f0r Saturday/Sunday. Note that the spaces near Southwell Hall and the Jubilee Conference Centre are likely to fill up first, but the entire road through the campus has bays to one side.

If you are arriving on Friday, parking is still free, but please ensure you print out the permit below and display on your dashboard to avoid charges and penalties. (If in doubt, display it!)

Accommodation check-in and check-out.
Check-in is
from 3pm
on Friday and Saturday. The venue has been asked to put people from the same chorus in bedrooms near to each other, which will be followed where possible. Please do not request to change your room.
Southwell - Go in the entrance to Southwell and give your name to receive your room key.
Jubilee Conference Centre - Give your name to reception, same as any normal hotel stay.
Check OUT
for Southwell is by
9:30am on Sunday
. Given the timetable, this means you need to check out (hand your key in)
after breakfast and before the first session
. (And before warmup if attending that). If possible, please put any luggage in your car, otherwise there will be luggage storage available, ask at reception for your accommodation. There may be a charge if you forget to hand in your room key.
Check OUT
for Jubilee Conference Centre is by
11:00am on Sunday
. You can therefore do this during the morning coffee break if you wish, or may find it more efficient to checkout after breakfast and free yourself up for a day of uninterrupted learning.
Have you forgotten what accommodation you booked when you enrolled? Search your inbox for an email where the subject line starts "Confirmation of LABBS Harmony College Enrolment", open and scroll down to find the code of the accommodation option you chose and paid for, then look up that code on the original
prices page
. If you were enrolled by someone else, ask them!
Harmony College Reception
The Harmony College reception will be located in the road-side entrance to the Atrium (place where we eat) and will be staffed for collection of your event passes
(please bring your LABBS lanyard)
at the following times:
Friday 5pm-8pm
Saturday 9am-9:50am
Saturday from 11:10am for late arrivals.
There will generally be someone available at other key times of the day, in case you need help with anything. If you arrive on Saturday between 9:50am and 11:10am, please come to the plenary session in Business School South first and collect your pass in the coffee break afterwards.

Timetables
The basic timetable for your stream's session timings and lunch slot will be printed on the reverse of your event pass.


Stream Timetables
Pic-n-Mix classes
You can choose on the day which one of the classes you want to attend and simply turn up to the room indicated, which could be any of the ones we are using for all the streams.


Building Floor Plans
Click on each thumbnail to see larger images with our booked College education rooms marked, so you know where you're going! (The larger image will load in the same browser window, so use your browser "back" button when done).

Business School South (#7)
Floor A (ground) and Floors B & C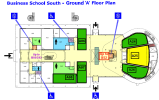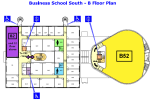 Exchange Building (#2)
Floors B and C



Amenities Building (#11)
Floors A (ground) and B


Dearing Building (#6)
Floors A (ground), B and C


Water
There are water fountains in the foyers of Business School South, The Exchange Building and in the catering Atrium.

Streams based in Dearing and The Amenities Building will need to fill their bottles before they go.
Bars and social
Please note: The entire Harmony College event is for enrolled delegates only, plus named volunteers.
Friday - activities for early arrivals
On Friday after dinner, there will be an optional session to sing LABBS polecats under the direction of a selection of LABBS MDs. This will take place between 8pm-9pm in Business School South, in the auditorium B52. Simply turn up and join in, latecomers also welcome!

Extreme Quartet delegates have also been invited to a stream gathering on Friday evening, to kick off their songs!
Bars
There is no bar available in Southwell Hall. Instead, there are the following options on Friday and Saturday nights - please note the restriction on any singing in the Jubilee Conference Centre and abide by that request, in order to respect other non-LABBS guests.
There are also a couple of "
Quiet Room
" communal spaces in
Southwell Hall
if you're plain people'd out.
Please respect others and do not sing anywhere in or around Southwell after 10:00pm on both Friday and Saturday, and do NOT continue singing anywhere outside after the bottle bar in the Atrium is closed - noise carries far on this campus!
Meals
Residents of the Jubilee Conference Centre will have breakfast there.
All other JCC meals, and all Southwell meals including breakfast, will be served in the Atrium, canteen style. Food will be available between the advertised times in the timetable/below. While it's a good idea to sometimes wait for the queue to die down, don't leave it too late!
Special diets:
All dietary requirements given on your enrolment form have been communicated to the venue. If you have indicated an allergy or intolerance, or you are a vegan, before joining the queue please enquire for each meal whether there is a specific meal set aside for you, to avoid waste. Vegetarians without any additional dietary needs will be able to select from vegetarian options provided as part of standard fayre.
Breakfast:
JCC - check hotel info on arrival for times.
Southwell (Atrium):
Saturday 8:00am - 9:15am
Sunday 7:45am - 9:00am

Lunch:
Your lunch time will be on the reverse of your event pass. Note that in order to minimise queueing, lunch times in the Atrium are staggered as follows:
1st lunch: Blue Chorus, Directors stream, EQ stream
2nd lunch: Red Chorus, Quartet stream, Personal Development Stream

Dinner:
Friday
6:30pm - 8:00pm (
only
for those who have pre-booked dinner as a
"B" enrolment package
)
Saturday
6:00pm - 7:30pm (
everyone
), with a cash bar available for drinks (cards also accepted).
Teabreaks:
Tea, coffee and biscuits will be served in the Business School South and The Exchange Building according to the numbers present in each. Those based in Dearing and the Amenities Building should go to the Atrium.
---
Do you have any questions?

Visit the FAQ page or email the Harmony College Dean on harmonycollege_filter_unwanted@labbs.org.uk